spicy soba noodle salad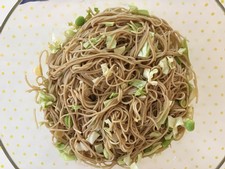 Recipe Date:
July 15, 2016
Measurements:
Imperial (US)
Ingredients
8 ozs soba or whole-wheat spaghetti
1/4 cup soy sauce
1 tbsp honey
2 tbsps rice vinegar
2 large cloves garlic, finely chopped
1 2-inch piece ginger, peeled and finely grated
1 jalapeno, finely chopped
1/3 cup Olio d'Natalia (excellent quality extra-virgin olive oil)
1/2 lb green cabbage very thinly sliced
1 cup shelled edamame
1 small bunch scallions, very thinly sliced on an angle
3 tbsps black sesame seeds or toasted sesame seeds
Directions
Bring a large pot of salted water to a boil. Add the noodles, cooking to package directions, but try to keep al dente.
Drain. To help cool noodles faster, rinse thoroughly with cold water.
Meanwhile, combine the honey, soy sauce, vinegar, garlic, ginger and jalapeno in a large bowl, then whisk in the oil.
Add the cabbage, edamame, scallions and noodles. Toss to combine. Sprinkle with sesame seeds.
ENJOY!!