Sweet Potato Chipotle Soup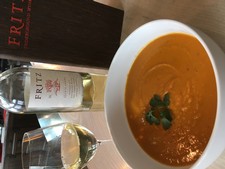 Recipe Date:
February 3, 2017
Measurements:
Imperial (US)
Ingredients
3 tbsps Olio D'Natalia
2 tsps shallot, finely minced
1/2 white onion, finely minced
2 cloves garlic, finely minced
5 sprigs fresh cilantro (reserve a few leaves for garnish)
3/4 tsp ground cumin
1 tsp Kosher salt
1 1/2 tsps minced chipotle in adobo sauce
2 large sweet potatoes, washed, peeled and chopped into 1 inch cubes
5 cups water or vegetable stock
Directions
Heat the olive oil in a large, heavy pot over medium heat. Add the onion, garlic, cilantro sprigs, cumin, and a heavy pinch of salt and cook, stirring now and then, until softened but not browned, 10 minutes. Add the chipotle and the sweet potatoes and stir to combine. Add the water or vegetable stock to the pot and turn up the heat. Once the soup comes to a boil, lower the heat and simmer until the sweet potatoes are very soft, about 30 minutes. Remove and discard the cilantro. Puree the soup in a powerful blender, I use a Vitamix. Garnish each bowl with a few of the reserved cilantro leaves.