Olio D'Natalia cake with orange zest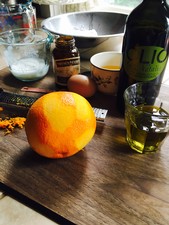 Recipe Date:
April 10, 2017
Measurements:
Imperial (US)
Ingredients
1 1/2 cups all-purpose flour
1 tsp baking powder
1/4 tsp sea salt
6 tbsps Olio D'Natalia
1 cup granulated sugar
2 extra-large eggs, room temp
1/2 tsp vanilla bean paste or excellent quality extract
1/3 cup buttermilk
2 tsps orange zest
Directions
Preheat your oven to 350.
Grease an 8.5 inch x 4/5 inch loaf pan, preferably with Olio D'Natalia.
Sift together the flour, baking powder, salt into a bowl. Set aside.
Measure the buttermilk into a measuring cup, add the vanilla. Set aside.
In a standing mixer, beat together the sugar and Olio on medium speed (3 or 4 on Kitchen Aid) with paddle attachment until well combined. It is important to stop every minute or so to scrape down the sides. Please note that this mixture will not be as airy as a traditional pound cake. Don't worry.
Break the eggs into a small bowl and beat them slightly with a fork. With the mixer running, drizzle in the eggs slowly so they get well incorporated.
Add the dry ingredients in three additions, alternating with the buttermilk & vanilla. Start and end with the dry ingredients.
Beat the orange zest into the batter until just combined.
Pour the batter into the loaf pan and bake 45-55 minutes.
Cool the cake on a rack, then remove from the pan.

XO, Natalia