Caprese Pasta Salad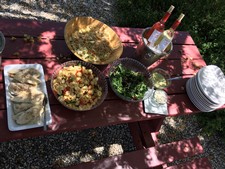 Recipe Date:
July 15, 2016
Measurements:
Imperial (US)
Ingredients
1 lb box of Orecchiette pasta
1 pint your favorite cherry tomatoes, quartered
1 container fresh Mozzarella pearls
1 cup fresh basil leaves, sliced into ribbons (so pretty!)
2 cloves fresh garlic, finely chopped
1/3 cup good quality Balsamic vinegar
3 tbsps Olio d'Natalia
salt & pepper
Directions
Bring a large pot of salted water to a boil. Cook the pasta according to package directions.
Drain and rinse with cold water to cool the pasta. Set aside.
Drain the Mozzarella pearls.
To a large salad bowl, combine pasta, tomatoes, Mozzarella, and basil.
In a large jar with tight fitting lid, add the garlic, Balsamic vinegar, Olio d'Natalia, salt & pepper. Attach the lid and give it a good shake, shake, shake!!!
Generously pour the dressing over the salad. Toss well to combine. This is so good, fresh and .....lovely with a glass of wine!