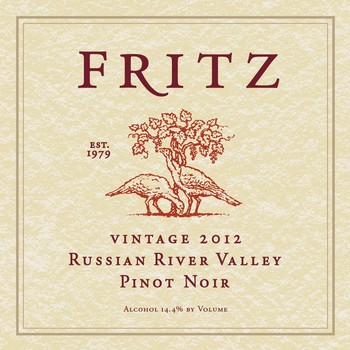 2012 Fritz Russian River Valley Pinot Noir
Winemaker's Notes:
The fruit for this delightful Pinot Noir comes from a 25 acre vineyard located West of Highway 116 in Sebastopol. Pommard, 115, and 113 clones were planted in rich Gold Ridge Dust soil allowing for a complex array of fruit to work with during harvest. Burgundy in color, this wine has intoxicating aromas of black fruit that softly opens up, allowing for hints of baking spices. Our Russian River Pinot is rich in texture with perfectly balanced acidity and firm, bold tannins. Once it hits your palate it expresses flavors of Bing cherry, plum, black currant, and savory spices. The wine finishes elegantly with lingering flavors of cherry and cocoa powder.
- Winemaker Brad Longton

Production Notes:
The fruit was de-stemmed only so that whole berries were transferred to open top fermenters, to help capture bright fruit aromas and flavors. After 5 days of a cold soak the tanks were warmed which allowed the juice to ferment naturally.
The tanks were punched down 2-3 times per day for 10 days allowing skin contact for color and flavor extraction. The wine was then drained off the skins and placed in 30% New French barrels.
Please note. The sale price and $1 shipping on this wine expired 3/31/15.