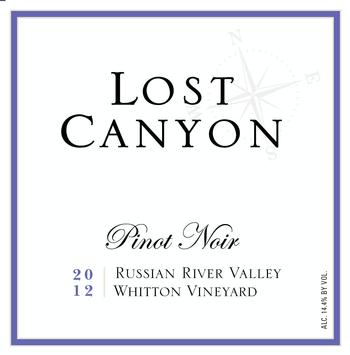 2011 Lost Canyon Whitton Vineyard Pinot Noir
Winemaker's Notes:
This beautiful 25-acre vineyard is situated on the outskirts of Graton. Planted in 1999, on what was once a fertile apple orchard and lined with eucalyptus trees, the Whitton Vineyard provides the fruit for this full-bodied Pinot Noir. The use of Dijon 115 and Pommard clones leads to a wine that is bold in color, with aromas of plum, fig, forest floor, and subtle hints of bay leaves. Flavors of black and red cherry, sweet plum, and fig are delicately wrapped in firm, chewy tannins and balance acidity.
Production Notes:
The fruit was de-stemmed only so that whole berries were transferred to open top fermenters, to help capture bright fruit aromas and flavors. After 5 days of a cold soak the tanks were warmed which allowed the juice to ferment naturally.
The tanks were punched down 2-3 times per day for 10 days allowing skin contact for color and flavor extraction. The wine was the drained off the skins and placed in 40% New French barrels.