the BEST blueberry muffins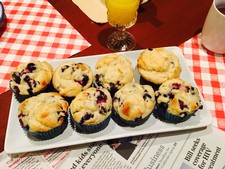 Recipe Date:
January 31, 2017
Measurements:
Imperial (US)
Ingredients
1 dry pint blueberries, rinsed well
1 1/8 cups sugar
1 tbsp sugar for blueberries
2 1/2 tsps baking powder
1 tsp table salt
2 large eggs, room temperature
4 tbsps unsalted butter, melted and cooled
4 tbsps vegetable oil
1 cup buttermilk
1 1/2 tsps vanilla bean paste or extract
Directions
Preheat your oven to 425
Line a muffin tin with paper liners.
In a small sauce pan over medium-low heat, heat half of the blueberries along with the 1 tablespoon of sugar for about 5 - 8 minutes. Stir occasionally. Set aside.
In a medium bowl, sift together flour, baking powder and table salt.
In a separate medium bowl whisk 1 1/8 cups of sugar with the eggs. Whisk rapidly until they are thick and homogenous - this takes me about 45 seconds.
To the egg & sugar slowly whisk in the oil and butter until combined. Add the buttermilk and vanilla until combined.
Now, with a rubber spatula, fold the egg mixture into the flour mixture. Fold until just moistened. Add the uncooked and cooked blueberries. Gently fold in just a few strokes. DO NOT OVERMIX.
Using a 1/3 measuring cup, fill the muffin cups.
Bake 17-19 minutes. Allow them to cool in the muffin pan for about 5 minutes and if you have any patience, (I don't) you can transfer them to a wire rack to cool completely. We like the muffins super fresh & warm so we don't bother with the second cooling step.
xo Natalia