Wild Rice & Banana Pancakes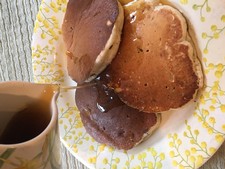 Recipe Date:
October 29, 2016
Measurements:
Imperial (US)
Wild rice and bananas come together in this pancake recipe to give you a nutty, hearty meal. Really good on a cold rainy Sunday morning.
Ingredients
1 cup cooked wild rice
1 banana, mashed
3 cups all-purpose flour
1/4 cup flaxseed meal
1/2 tsp Kosher salt
2 tbsps baking powder
1/4 cup sugar
1 1/2 cups whole milk
2 cups buttermilk
2 large eggs
1 tbsp good quality vanilla extract
2 tbsps melted butter or cooking oil
excellent quality maple syrup
Directions
In a large bowl, mix together the flour, flaxseed meal, salt, baking powder and sugar.
In another medim bowl, whisk together, milk, buttermilk, butter or oil, eggs and vanilla.
Pour the wet mixture into the dry ingredients, and stir to combine - try not to over mix, this will make the pancakes tough.
Add the rice and banana, gently folding in until well combined.
Heat a skillet or griddle over medium-low heat and generously coat it with butter. Drop 1/4 cup scoops of this batter onto the pan and cook on both sides until deep golden brown.
Serve with warm syrup and butter.
Enjoy the day!!