Spicy Black Bean Soup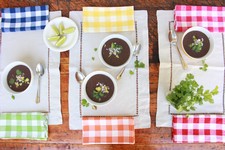 Recipe Date:
June 23, 2017
Measurements:
Imperial (US)
Ingredients
2 tbsps Olio D'Natalia
2 medium onions, diced
3 celery ribs, finely diced
1 large carrot, peeled and finely diced
6 cloves garlic, minced
4 1/2 tsps ground cumin
1/2 tsp red pepper flakes
4 15 oz cans black beans rinsed and drained
4 cups vegetable or chicken broth
1/4 cup cilantro, chopped
2 tsps sherry vinegar
1 small jalapeno, minced
salt & pepper to taste
optional garnishes (red onion, avocado, radishes, tortilla chips)
Directions
Heat the Olio D'Natalia in a large Dutch oven or soup pot over medium heat. Add the onions, celery and carrot and a light sprinkling of salt. Cook, stirring often until the vegetables are soft, about 10-15 minutes.
Stir in the garlic and minced jalapeno. Add the cumin, clinatro and red pepper flakes; cook until fragrant, about 30 seconds. Pour in the beans and broth and bring to a simmer over medium-high heat. Cook, reducing heat as necessary to maintain a gently simmer until the broth is flavorful and the beans are very soft. This can take about 30 minutes.
Get out your Vitamix or powerful blender!! And, a large bowl... You will puree in batches, pouring the pureed soup into the bowl.
Puree about 4 cups at a time until very smooth. Once all the soup has been pureed, pour the contents back into the pot and add in the sherry vinegar bring to a nice hot temperature. I add fresh squeezed lime juice at this point to brighten it up.
This is a fiesta in a bowl!! Enjoy.