Sparkling Risotto!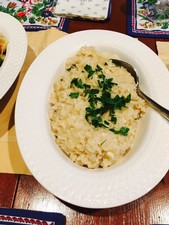 Recipe Date:
September 20, 2016
Measurements:
Imperial (US)
This is a very simple yet elegant dish. I highly recommend you try it.
Ingredients
1 medium yellow onion, finely diced
3 cloves garlic, finely minced
3 button mushrooms, finely diced
2 tbsps butter
2 tbsps olive oil
1 cup arborio rice
1/2 cup grated Parmesan cheese
3 cups hot chicken broth
1 cup Fritz Blanc de Noirs
1 tbsp fresh parsley for garnish
Directions
Over medium heat, melt the butter and olive oil together. Once the butter and oil are good and hot, sautee the onion, garlic and mushroom together for 3-5 minutes. Add the rice. Sautee for about a minute or two until the rice is lightly toasted. Then add 1 cup of Fritz Blanc de Noir. Stir frequently but gently while the sparkling wine absorbs. Once it is mostly absorbed, add 1 cup of chicken broth. Continue cooking and stirring until the liquid is absorbed. Gradually stir in remaining broth 1 cup at a time, cooking and stirring, cooking and stirring, cooking and stirring until..... UNTIL.... it is perfectly al dente. This takes about 30-40 minutes total. Right before you remove it from the heat, fold in the Parmesan cheese. Although I am not sure it makes a huge difference, growing up, I was always told to use a wooden spoon when cooking risotto. So, I only use a wooden spoon. Sprinkle with parsely. Serve hot.
xo, Natalia