Roasted Stuffed Tomatoes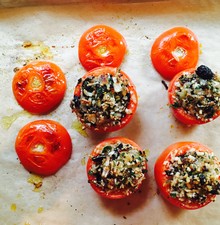 Recipe Date:
January 17, 2017
Measurements:
Imperial (US)
Ingredients
4 medium firm yet ripe tomatoes
1 large white onion, finely chopped
2 garlic cloves, finely chopped
12 black olives, pitted and chopped
2 tbsps Olio D'Natalia
1/4 panko
2 tbsps fresh oregano, finley chopped
3 tbsps fresh parsley, finely chopped
1 tbsp fresh mint, finely chopped
2 tbsps capers, chopped
1 tsp black pepper
Directions
Preheat your oven to 325.
Cut off about one inch from the top of each tomato and discard. Use a small spoon to scrape out the seeds and flesh, discard. You should have a nice clean tomato shell. Lightly salt the inside of the tomatoes and place upside down in a large colander. This will drain off any excess liquid.
Meanwhile, heat the olio in a medium saucepan over low heat. Add the onion, garlic, olives to the pan and cook for about 5 minutes; until the onion is very soft. Remove from heat and stir in the panko, herbs, capers and some pepper. Taste for salt.
Wipe the insides of the tomatoes with a paper towel, then fill them up with the herb mixture, pressing down very gently as you go. Keep a dome of stuffing on top.
Place the tomatoes in a greased ovenproof dish and drizzle lightly with remianing oil.

Bake for 35-45 minutes, until they are soft. Serve hot or warm with a refreshing glass of Fritz Sauvignon Blanc.