Plum & Pepper Tartlets with Honey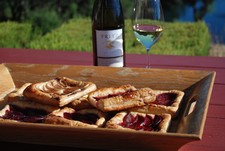 Recipe Date:
July 21, 2016
Measurements:
Imperial (US)
Ingredients
1 sheet puff pastry
5 plums, thinly sliced
2 tbsps good quality honey
1 tsp freshly cracked pepper
2 tbsps sugar
Directions
Preheat your oven to 425.
Line a baking sheet with parchment paper.
Lay down a sheet of puff pastry; cut into four equal squares. Pierce with fork all over to prevent pastry from rising. Distribute and arrange plums equally over each pastry square. Sprinkle with sugar and pepper.
Bake in oven for 25 minutes, rotating pan once to cook evenly.
Once removed from oven, drizzle with honey.
Can be cooked 4 hours in advance.