Natalia's Sweet Potato Baked Penne with Spinach and Love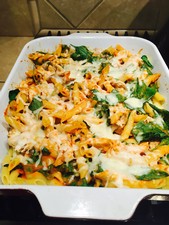 Recipe Date:
December 6, 2016
Measurements:
Imperial (US)
Ingredients
1 lb penne pasta
2 1/2 cups pre-cooked, shredded chicken
2 cups shredded mozzarella, divided
2 cups fresh spinach
3 tbsps fresh basil, coarsely chopped
1 jar Natalia's Sweet Potato Tomato Sauce
4 tbsps Olio d'Natalia
Kosher salt and pepper to taste
1 tsp red pepper flakes (optional)
Directions
Preheat your oven to 350.
Cook your pasta according to package directions.
Pour the jar of sauce into a small sauce pan and bring to a simmer, stirring occasionally
When pasta is done, drain in a colandar, set aside.
Graciously drizzle the Olio into the bottom and sides of your favorite 9x11 baking dish.
In a large mixing bowl, combine, pasta, shredded chicken, 1 cup of the mozzarella, spinach, basil, sauce and salt & pepper. And red pepper flakes, if desired. Stir gently to combine. Pour this mixture into the prepared dish and spread out evenly. Then top with remaining shredded mozzarella.
Bake in oven for 15 minutes, until hot and bubbly.
Serve hot.
Enjoy! Flavor! Extra Veggies! Seconds Please! Kids favorite!