Natalia's Bolognese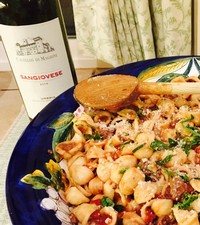 Recipe Date:
October 16, 2016
Measurements:
Imperial (US)
This meaty and flavorful sauce goes really well with smaller shaped pastas - like orecchiette or small shells. With any left over sauce, try smothering it over sliced grilled sourdough bread topped with grated parmesan. And a glass of red wine, of course!
Ingredients
2 tbsps Olio d'Natalia
1 1/2 lbs ground sirloin
4 garlic cloves, minced
1 cup chopped button mushrooms
1/2 cup pitted & chopped kalamata olives
1/4 tsp ground oregano
1/2 tsp crushed red pepper flakes
1 1/4 cups Costello Di Maggione Sangiovese (divided)
1 28 oz can crushed tomatoes
2 tbsps tomato paste
1 lb dried pasta such as orecchiette
1/4 tsp ground nutmeg
1/4 cup chopped fresh basil
1/4 cup heavy cream
1/2 cup freshly grated Parmesan (and lots extra for serving!)
Directions
In a large skillet (12-inch), over medium-high heat, heat 2 tablespoons of Olio d'Natalia. Add the ground sirloin, breaking up with a wooden spoon as it cooks. Once the meat has begun to brown (about 7 minutes), add the garlic, mushrooms, red pepper flakes and oregano. Stir to combine and let cook for 2 minutes. Your kitchen becomes very fragant right about now... Then add 1 cup of the wine, scraping the bottom of the pan to release any bits. Add the tomatoes, tomato paste and 1 teaspoon of Kosher salt, 1/2 teaspoon of freshly ground pepper. Stir until combined. Allow the sauce to come to a boil, then lower the heat for about 10 minutes.
Meanwhile, follow the directions on the pasta to cook the pasta. If you are cooking orecchietta, I recommend adding a splash of oil to the water once it comes to a boil, before you add the pasta. This will help keep the little pastas from sticking to each other. Normally, I never add oil to water for pasta, but this shape can easily cling to each other, and we don't want that...
As the pasta cooks, you will finish your sauce. Now add the nutmeg, baise and cream as well as the remaining wine. Simmer for 8-10 minutes, stirring every couple minutes. Resist the urge to sample it by the spoonful. Once the pasta is cooked, drain and pour it into a large serving bowl. Add as much sauce as you prefer, and the remaining Parmesan, and toss well. Serve hot.
Enjoy with a glass of Castello Di Maggione Sanvgiovese ~ it completes the meal!
PS: This recipe yields more sauce than one pound of pasta needs, so the left overs are terrific over grilled, toasted or broiled sourdough bread. Or over hot creamy polenta.