Green Beans with Gremolata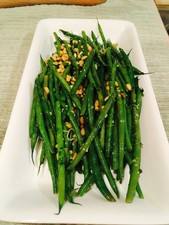 Recipe Date:
December 2, 2016
Measurements:
Imperial (US)
Simple green beans get dressed up and go on a date with gremolata. Gremolata is a super easy accompaniment jam packed with lemon zest, parsley, garlic, shallots and parmesan cheese. Tossing this creation with warm olive oil over blanched green beans is true love.
Ingredients
1 lb French Green Beans
2 Shallots, finely sliced
2 tsps grated lemon zest
3 tbsps parsley, minced
3 tbsps freshly grated Parmesan
2 tbsps toasted pine nuts
3 tbsps Olio d' Natalia
Kosher salt & pepper
Directions
Bring a large pot of water to boil - I add one heaping tablespoon of salt to my water when I blanch vegetables, for flavors sake! Add the green beans and blanch them for 3-4 minutes, until tender but still kind of crisp. While they are in the pot, get a large bowl fill it with lots of ice and water. Drain the green beans and quickly place them in the ice water. This stops the cooking and helps set a brighter color to vegetables.
Then... in a small-medium bowl, mix together the lemon zest, minced garlic, sliced shallot, Parmesan cheese, parsley and pinenuts. Set aside. Most likely, it will smell very fragrant and you will be excited for the next step.
When you are ready to serve, heat a large saute pan with the Olio d'Natalia in it. Not crazy hot, modest medium-high heat. Pat the green beans dry. Add them to the pan of hot oil and toss them around so they are well coated with oil. I add the gremolata to the green beans in the pan. I think the heat helps open up the flavors more. Sprinkle in the salt & pepper. Toss everthing together for just a minute or so... Remove from heat and spoon into a serving dish.

Amazing! Xo