Cider Roasted Pork Tenderloin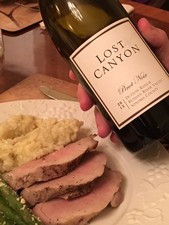 Recipe Date:
December 29, 2016
Measurements:
Imperial (US)
You will need to plan for 6-8 hours of marinating time before you place the pork in the oven. It really needs 6-8 hours; this is the time the marinade tenderizes the meat and delivers so much flavor. Together, the sharp, bright sweetness of the cider and the earthy flavors from the herbs give the tenderloin some GUSTO!
Ingredients
2 pork tenderloins
1 12 oz bottle of sparkling cider
1/2 tsp ground fennel
1/2 tsp ground cinnamon
1 tbsp coarsely ground black pepper
3 tbsps Kosher salt
1 tsp fresh ginger, finely minced
2 tbsps Olio D'Natalia
Directions
In a medium bowl, combine the cider, 3 tablespoons Kosher salt, ground pepper, ground fennel, ground cinnamon, and ginger. Mix well. Pour this mixture in to a large Ziplock bag. Place the tenderloins in the Ziplock bag as well and push out all the excess air. Seal the bag and put in the refrigerator. Please allow the pork to marinate for 6-8 hours.
Preheat your oven to 450. While the oven is preheating, take the ternderloins out of the refrigerator, remove from the plastic bag and pat them dry with papertowels. Discard the marinade.
Liberally coat the tenderloins with Olio D'Natalia. Place on a baking sheet.
Once the oven is at a solid 450, roast the pork for 20-25 minutes. You should check with a meat thermometer that the inner temperatur of the pork is 125.
Remove from oven and cover tightly with foil for 5-7 minutes.

Slice on a diagonal, about 1/2 inch thick.
I serve this with roasted asparagus and a simple risotto. And!!! a lovely glass of Lost Canyon Morelli Lane Pinot Noir.
Magnificant. Really!!! You will NOT be disappointed.