Chicken Pozole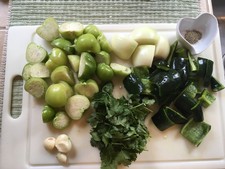 Recipe Date:
November 27, 2016
Measurements:
Imperial (US)
Ingredients
2 lbs tomatillos, outer skin removed, quartered
1 onion, quartered
2 poblano peppers, seeds removed, roughly diced
1 jalapeno, seeds removed, roughly diced
3 cups chicken stock (preferably homemade)
3 garlic cloves
1/2 cup fresh cilantro
1 tsp Kosher salt
1/4 tsp ground pepper
1 28 oz can hominy, drained
2 cups shredded chicken
favorite toppings; sour cream, avocado, radish, tortilla strips
Directions
In the carafe of a blender add tomatillos, onion, poblano & jalapendo peppers and 2 cups chicken stock. Blend for about 30 seconds or until roughly combined. Add garlic, cilantro, salt and pepper and blend until smooth, about 30 seconds to a minute.
In a Dutch oven or medium sized pot warm oil over medium high heat. Add tomatillo liquid and cook over medium for 10 minutes or until the liquid turns from bright green to darker green. Add hominy, shredded chicken, any remaining stock to thin out the soup to your liking.
Warm through, taste for salt and pepper and serve with assorted toppings such as sour cream, tortilla strips, radish, avocado and cilantro. Enjoy with Fritz 2014 Blanc de Noirs! Cheers!!!