Celery & Olive Medly Salad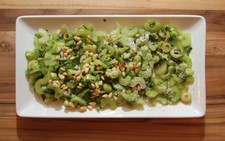 Recipe Date:
January 18, 2017
Measurements:
Imperial (US)
Celery and green olives are sliced while red onion and herbs are chopped finely then tossed with Olio D'Natalia and a splash of red wine vinegar and a few other fresh ingredients to impress your taste buds. Add roasted chicken or shrimp for protein.
Ingredients
6 stalks celery, cleaned with ends cut off - sliced on the diagonal about 1/8
1 cup green olives, pitted, sliced about 1/8
2 tsps red onion, finely minced
3 green onions finely sliced, white and green parts
1 tsp fresh oregano, finely minced
1 tbsp fresh parsley, chopped
2 tbsps pine nuts, toasted
2 tbsps Olio D'Natalia
1 tbsp red wine vinegar
1 small jalapeno, trimmed and finely minced
Directions
Place sliced celery, green olives, red onion, green onion, jalapeno, oregano and parsley in a large bowl. Drizzle Olio D'Natalia and red wine vinegar over and toss thoroughly. Sprinkle with salt and pepper to taste. Top with toasted pine nuts. Pour onto a serving platter and enjoy.