Asparagus Lemon Tart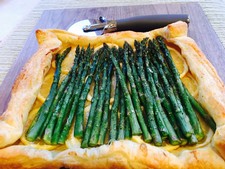 Recipe Date:
May 31, 2016
Measurements:
Imperial (US)
Puff pastry layered with a glossy slather of Olio D'Natalia, and super thinly sliced lemon, then topped with fresh asparagus. Baked to perfection then drizzled with Olio D'Natalia and a sprinkle of salt & pepper. It is fabulous!
Ingredients
1 sheet of puff pastry
lemon, very thinly sliced
1 bunch of fresh asparagus
1 tsp kosher salt & pepper
2 tbsps freshly grated Parmesan
Directions
Preheat oven to 400.
Roll out your sheet of puff pastry into a rectangle.
With the tip of a butter knife, gently score a half-inch border inside the rectangle; this is where you will place all the ingredients.
Top with lemon slices in an even layer.
Add asparagus stalks.
Fold puff pastry edges (from the scored border) over asparagus.
Place on a baking sheet line with parchment paper.
Bake at 400 for 20-25 minutes.
Remove from oven, drizzle Olio d'Natalia then dust with grated Parmesan.