Asparagus Lemon Tart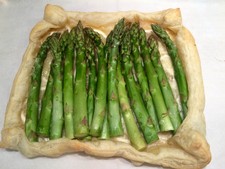 Recipe Date:
May 31, 2016
Measurements:
Imperial (US)
Puff pastry layered with a thin spread of Alfredo sauce, super thinly sliced lemon, then topped with fresh asparagus. Baked to perfection then drizzled with Olio D'Natalia and a sprinkle of salt & pepper. It is fabulous!
Ingredients
1 sheet of puff pastry
1/2 cup high quality alfredo sauce
1 lemon, very thinly sliced
1 bunch of fresh asparagus
1 tsp kosher salt & pepper
2 tbsps freshly grated Parmesan
Directions
Preheat oven to 400.
Roll out your sheet of puff pastry into a rectangle.
Spread Alfredo Sauce onto, leaving about 1/2 inch border.
Top with lemon slices in an even layer.
Add asparagus stalks.
Fold puff pastry edges over asparagus.
Place on a baking sheet line with parchment paper.
Bake at 400 for 20-25 minutes.
Remove from oven, drizzle Olio d'Natalia then dust with grated Parmesan.