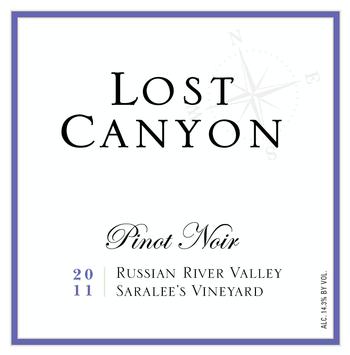 2011 Lost Canyon Saralee Vineyard Pinot Noir
Winemaker's Notes:
Set against a background of stately ancient oaks, Richard and Saralee Kunde selected the site for its qualities of cool climate, famous soil, and gentle hills. Situated within two miles of the Russian River, the vineyard has a Northern/Southern exposure and is at 150 feet above sea level making for fog engulfed summer mornings, allowing for a slow maturation of the grapes. Dense in color, this Pinot Noir bursts with aromas of cherry, plum, wet gravel, and subdued cedar notes. Flavors of fresh cherry, sweet plum and baking spice are engulfed by rich, firm tannins and bright, balanced acidity.

Production Notes:
The fruit was de-stemmed only so that whole berries were transferred to open top fermenters, to help capture bright fruit aromas and flavors. After 5 days of a cold soak the tanks were warmed which allowed the juice to ferment naturally.
The tanks were punched down 2-3 times per day for 10 days allowing skin contact for color and flavor extraction. The wine was the drained off the skins and placed in 40% New French barrels.